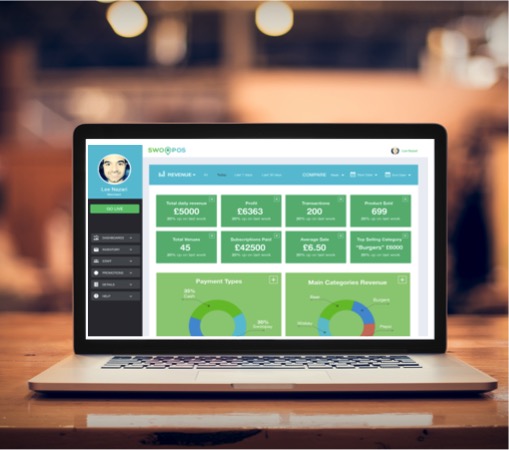 Swoopos: What This New POS System Brings to the Table
Modern POS or point-of-sale technology has evolved from simply being the cash register to providing full services of point of sale systems. This has changed the way payments are accepted, and Apple's iPad has proven to be the perfect platform for these web-based POS systems. Swoopos, a mobile-based POS system, offers simple and economical transactions and store management to every business, no matter their size, and the best part of it is the minimal need of any upfront investments.
But, what does the Swoopos mPOS system really have to bring to the table? Let's find out.
Swoopos is the new mobile-based system on the block, which has combined modern technology when it comes to mobile pre-order payments, customer relation management, beacon marketing and analytical reporting into one very powerful system. Swoops can handle all customer payments, manage finances and stock levels, market special offers and highlight the buying habits of customers. You can consider it as the best assistant manager you have ever dreamed of, and all of that for a minimal cost. Swoopos is the system that can future-proof your business for this new wave of shoppers.
Accepting Mobile Payments
Electronic payments have overtaken cash in the year 2015, and with the launch of many mobile wallets like Apple pay, we can say with certainty that, if your business is not taking mobile payments, it could be losing a lot of customers. Swoopos offers a universal payment system that can accept any type of transaction. The best part of this system is that it is one of the first mPOSs in the world that allows the customers to pay directly from their PayPal accounts, while they are in the business premises.
This means that 19 million UK customers can directly pay for your product or service without the need to use cards and cash when they are at the checkout. Contactless payments and Apple-Pay are also accepted with Swoopos, together withSwoope, the mobile wallet app. We can say with certainty that each and every latest payment method is covered by this mPOS system.
Beacon Technology
Swoopos uses the latest beacon technology that makes it easy to process personalized offers to customers with a simple touch of a button. It allows you to send the right offer to the right customer, based on their food preferences. This has been shown to increase conversions and it is simple to sell those extra items based on customer preferences.
The Power of Analytics
The fact is that, the more you understand your business through data, the better decisions you will make when it comes to improving things like staffing efficiency, revenues, customer experiences, profit margins and your brand's image. One of the best features of Swoopos is that it has a detailed analytics section. It shows stats on your business and can help in forming a bigger picture, which can make or break your business.
Pre-Order and Click And Collect Orders
When Swoopos is turned on, you instantly get the option for choosing whether you want to be a pre-order business with click and collect, delivery and/or table service. Customers can pre order and pre pay straight from their smartphones before they are even at their business premises. Orders are managed easily into a special pre order screen. This way, a business can serve approximately 35% more orders, because the customers will already make the selection and payment in their own time.
Table Service
Another amazing feature of this mPOS system is that it comes with a fully loaded table service feature, and customers can order directly from their smartphones. Businesses can cut down on staffing costs and offer next generation services. This system can work great with hotels that have the option of ordering room service, where all orders can be sent to the room directly from the kitchen.
When it comes to hardware, Swoopos can be run with the stand-alone iPad and it can also come with any hardware you choose; it all depends on what your business needs. Swoopos also gives you the option to log in from any location in the world and, for business owners who own chain shops, this is the best way to see what is going on at all times.
Safety and Security
Data protection is taken seriously and this is why Swoopos has partnered up with some of the best electronic payment companies, to ensure the highest level of security. The payment partners do all the transactions and this system handles no sensitive data whatsoever. Swoopos has the option of going with completely cashless transaction and paperless systems, where all receipts can be emailed to customers and every purchase can be done through smartphones.
--------------
For more information about SWOOPOS please contact us on sales@swoopos.com